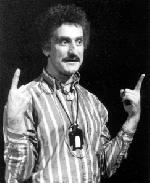 As the listener and teller become children at heart together, that all too ever present question - 'Did it really happen ?' - is shrunk to a frivolous query …
**********
BIBLIOGRAPHY
"Pacala, a Folktale from Romania" in Treasures from Europe. Flora Joy. Teachers Ideas Press, Conneticut, 2003.
Storytellers, A Biographical Directory. Corki Miller and Mary Ellen Sniodgrass. McFarland & Co., London, 1998.
Les Ficelles du Conteur. Anne Pellowski. Armand Colin, Paris 1984 (Preface in French).
"Au Temps où les Tigres Fumaient la Pipe" Aube Magazine n°51, 1995 (Story beginnings and endings in French)
/In April 2008 Sam Cannarozzi published, with the 'British Society for Storytelling', an English version of this collection entitled "When Tigers Smoked Pipes". You can find it in the ORACLE SERIES and it can be ordered directly from the SfS./
'Entrevista a Sam Cannarozzi en el Festival de St Affrique(Francia) TanNàgORa(2007) in Spanish
Sam Cannarozzi has also written for Storylines the Magazine of the British Society for Storytelling (SfS) and has had articles published in Dire (France), Fact & Fiction (England) Storytelling Magazine and Works in Progress (USA).
His poetry and haiku poetry also appear in international reviews in Japan, New Zealand, Canada, France, Romania, Greece etc.
World Catalogue
https://www.worldcat.org/search?q=au%3ACannarozzi+Yada%2C+Sam%2C&qt=hot_author
Finally, he is a contributor to the Bulletin and Magazine of the International String Figure Association (USA) and has had articles in Geste et Image edited by the French National Science Association (CNRS, Paris 1992).
CD
"When Tigers Smoked Pipes" les Invendables. Groupe de Musique Vivantes de Lyon (GMVL), 2005 (Story beginnings and endings)
Brèves de Conteurs. vols. 1 & 2. Raymond et Merveilles, Villeurbanne, France 2003/2005 (in French)
AUDIO - VISUAL
"Il Coulait un Fleuve de Mots...". Les Oralies de Haute Provence, France Storytelling Festival, 1990.
An interview on Siswati Télévision, in Swaziland East Africa, 1991.
"Autour du Conte". Cap Canal, Lyon, France 1995.
Gestes et Cultures d'ailleurs in l'Oeil et la Main, FR3 Toulouse, France 1998 (a program for the deaf)