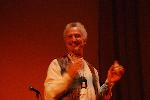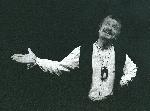 "I am the product of all the ancestors getting togther and deciding these stories need to be told."
Hindu writer, Rupi Kaur
"Storytelling is an intimate and universal art form that is over 50,000 years old !" -
- Bernard Colin
In 2022, Sam CANNAROZZI celebrates four decades in storytelling.
After a diploma in modern languages and linguistics in 1973, Sam continued with training in the performing arts including dance, mime and other corporal disciplines, in the United States but especially in France and Europe. Then came the decisive moment when he responded to an invitation from the 'Conteurs du Monde/World Storytellers' Festival organized by the Maison des Cultures du Monde (Paris) in a little village in Dordogne, France. There, for the first time, he heard with his own ears storytellers from Rajistan, Egypt, Vietnam and other parts of the world in their native language. He likewise shared stages with new wave French storytellers - Mimi Bathélémy, Hamed Bouzzine, Bruno Delasalle, Daniel L'Homond, Cathérine Zarcate and others who would become an inspiration for him.
He then began creating his own performance style of storytelling using gesture, visual means, and objects, in addition to the oral tradition, with which he would travel all over France, to over a dozen European countries (Scandinavia, Austria, Ireland, Portugal etc) as well as West Africa (Mali, Senegal, Burkina Faso, Niger, The Ivory Coast...) from festivals to cultural centers, from museums to libraries ...
If there is a constant in his performances it is a sensitivity to all cultures and a totally sensorial approach to story - you can find in his stories- tastes, scents, foreign languages, pictures, objects, fabrics, gestures, colors, sounds and music, that he offers to all audiences from the very young on, and also in the form of workshops.
To these different and varied programs, have been added other activites parallel to storytelling - Carnaval and holidays, toys and games and conferences on different subjects. He also has developed scientific programs with a poetic touch.
Or if you like he can specially compose an event with a theme (For example: Storytelling and the Circus Arts) or from a specific geographic area such as Oceania.
For an intimate evening or on an international stage; for a Festival, Library Project, inauguration or holiday, Sam Cannarozzi tells stories but also knows how to listen. So lend him your ears and he promises to hand them back embellished and full to overflowing !
"Sam yada Cannarozzi, through the marriage of words and gestures, makes contact with that part of childhood that resides in each of us."
/Cultural Seasons: Saône and Loire, France, 8 March, 2008.