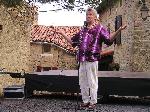 (kindergarten)
LITTLE GREEN RIDING HOOD
Short tales, finger stories, rhymes, magical objects and a flying carpet create the atmosphere for these performances which invite a young audience to participate with word and gesture and all the while listening. A first, small step in the vast world of stories.
_____
(primary school)
STORIES FROM THE SANDGIRL'S SACK
and
RECOUNT, RECOUNT YOU CONTINENTS
The Sandman has died and the world is topsy-turvy. But S˙ndüz through her cleverness will beat a great samurai for the title of the new 'Sandgirl' and then go on to learn the stories of the countries she will travel to.
Zoya won't listen to anyone. But the day when she is lost in the great jungle it is through remembering the stories her grandmother told her that she will find her way home.
_______
THE BAOBAB TOLD ME
Princess Rehani and her lover Prince are trying to convince the princess's father to let them marry. Then one night the Prince receives a curious package containing five objects from his Princess explaining how to go about this. But will he be able to understand the hidden meaning behind the message ?
A programme where rhythm and African instruments bind together word and image.
_____
SMART AND STUPID
Is it a young boy or a young girl? One thing is certain, he/she, with all the foolishness and wisdom of an adolescent, is looking for the doorway to adulthood. Tales from Europe and the world.